Where Do You Rank For Your Keywords?
What Are Keyword Rankings?
Keyword rankings refer to where you rank online for that specific keyword
Search results vary based on what Google has considered relevant for that particular search online. Most of the time, you will be seeing paid ads either at the top of the page or on the footer when you look something up on Google. If you are performing a local search, you will see Google Maps listings directly below paid ad listings.
The ranking structure is as followed:
– Page 1: Rankings 1-10
– Page 2: Rankings 11-20
– Page 3: Rankings 21-30
Only 22% of users ever go past the first page on Google, so it is essential to either rank on the first page for the organic listings or get ranked in the map pack for local searches. Below is an image that explains the difference between paid searches and Google map rankings.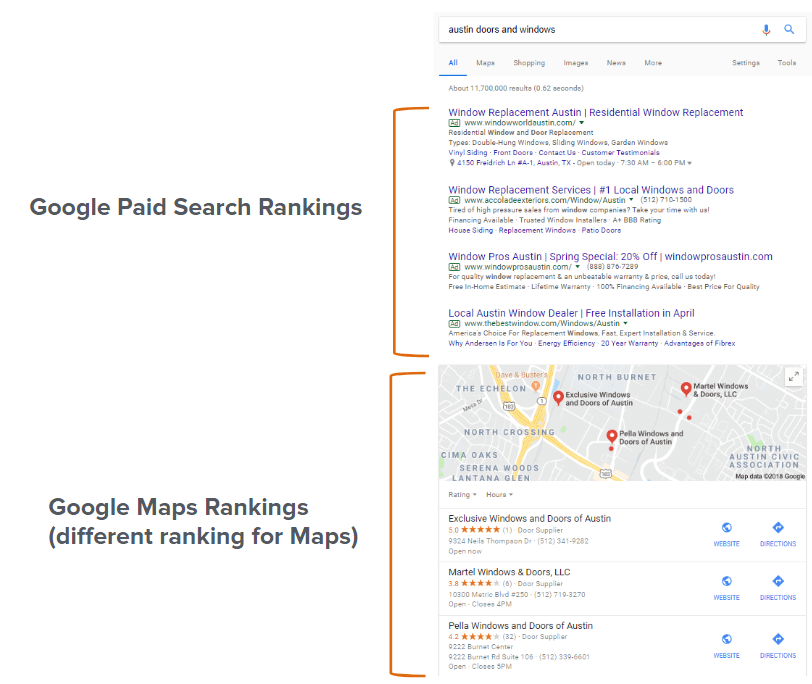 SEO Phrases We Feel You Should Know:
Keywords - Search Volume - Keyword Rankings - CPC - Keyword Difficulty - Keyword Density - Internal Linking - CRO - Image Alt Text - 301 Redirects - 302 Redirect - 307 Temporary Redirects - 308 Experimental Redirects - 503 Redirect - Call To Action - Title Tags - Meta Tags - Bounce Rate - Google My Business - NAP for SEO - HTTPS Protocol - A/B Testing - Conversion Rates - Private Blog Network (PBN) - Cost Per Lead - HTML - Backlinks - Outbound Links - Sales Funnel - Long Tail Keywords - Microsite - Mobile First Indexing - No Follow Link - On Page SEO - Off Page SEO - Top Of Funnel Keywords
Have a suggestion of an SEO term we should include in our glossary? Send us an inquiry and we can add it to our list!
READY TO GROW?
Fill out the form below and one of our representatives will give you a call to discuss how we can increase your bottom line! We'll be in touch shortly.