Transforce Group SEO Campaign
Content, Backlinks, On-Page
Search Engine Optimization
Utilizing the Power of SEO to Increase Lead Flow
Transforce Group was looking for an increase in their organic traffic in order to generate more B2B leads from trucking companies. Seyfmark collaborated with Transforce Group and identified a multitude of on-page issues which was holding them back from their true organic potential.
We looked at what issues we can resolve initially and fully optimized the front end of their website. Afterwards, we created a full content marketing plan which included the keywords that we had identified as low-hanging fruit. Our in-depth research has helped create a blueprint about what it would take to out-rank their competitors, which resulted in a 450% increase in their monthly organic traffic.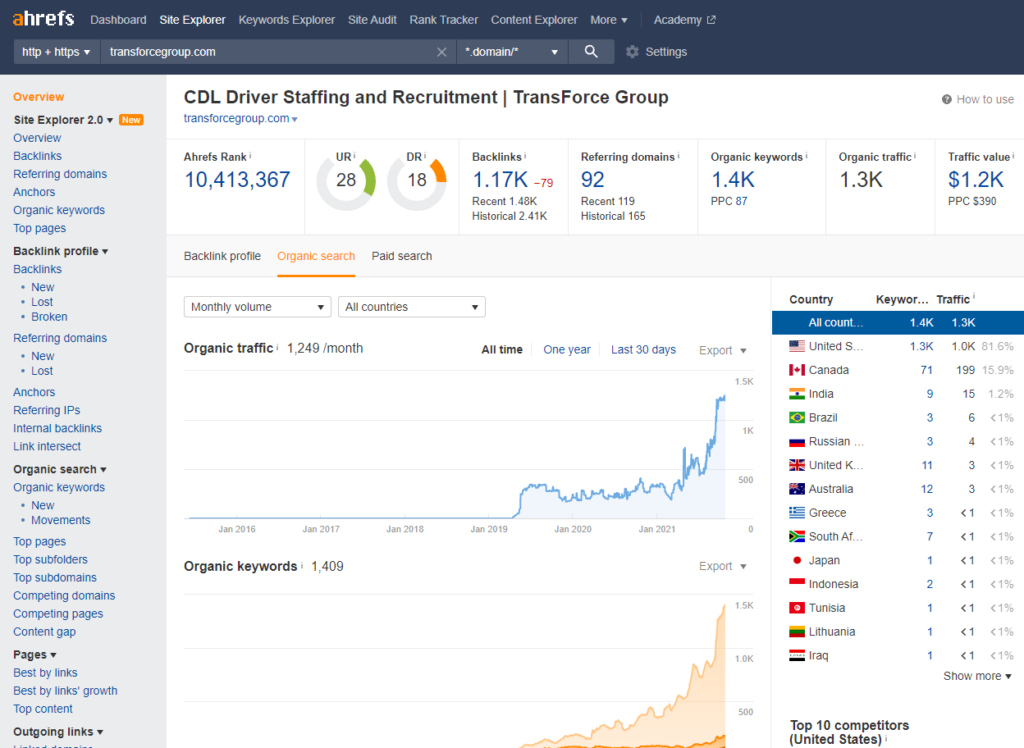 For this campaign, we also took a different approach by focusing heavily on article marketing campaigns and social media engagement with niche-based online trucking networks such as Truckers Forum, Trucker101 and Overdrive among others. When possible, we prefer to leverage existing communities rather than rely solely on our own relationship building activities since it allows us to reach more users.
Since we used a very targeting approach, this also meant an increase in their conversion rate. Their conversion rate more than doubled from 4% to around 11%. When identifying keywords and determining what the search intent is on these keywords, this will help turn those new users into customers/leads.
Targeted, High-Quality Content
The Seyfmark team put together a content marketing plan which identified which keywords to target, as well as how to approach those keywords based on the search intent. We looked over at the search market to see what we could do to provide more valuable for Google user who is looking in the trucking/b2b space. For example, we put together a guide for truck drivers on how to prepare for a job interview. A few weeks after posting the guide, we noticed that Google rewarded Transforce Group with a rich snippet feature for that guide.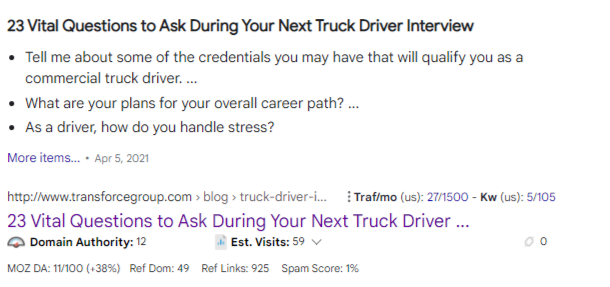 Keywords revolved around truck driver interviews have significant amount of search volume, so being able to get rewarded the rich snippet helped Transforce Group increase more traffic/conversions, especially for the staffing department.
SEO is a key component of any modern company. That's why we at Seyfmark, we create custom SEO strategies for our clients who are looking to increase their web presence and profitability through organic search engine results pages (SERPs). We work with you every step of the way – from creating engaging content, implementing well-researched keywords into all aspects including social media campaigns or ads networks; ultimately driving traffic back towards your website which increases its ranking within top rankings sites like Google!
With our team of experts, content creators and developers we can put together a roadmap that will provide you success online! Use the form below to get started!
Lets Chat
See What Seyfmark Can Do For you